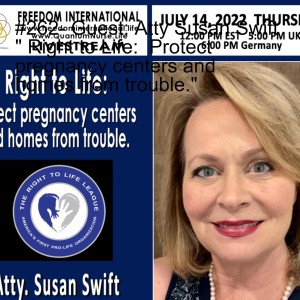 Thursday Jul 14, 2022
#262- Guest: Atty Susan Swift " Right to Life:  Protect pregnancy centers and homes from trouble."
Quantum Nurse www.quantumnurse.life presents
Freedom International Livestream
On July 14, 2022 Thursday @ 12:00 PM EST 5:00 PM UK 6:00 PM Germany
Guest: Atty Susan Swift
Topic: Right to Life:  Protect pregnancy centers and homes from trouble.
https://righttolifeleague.org/ 
Bio:
Susan Swift is an Attorney with the Right To Life League, which is the oldest ProLife organization in America. She can give your viewers the legal perspective of what the upcoming ruling from the Supreme Court amounts to in America and the lives of women and babies. She is an excellent resource from both a legal and personal perspective having 7 children herself.  
Susan Swift is also the Vice President of Legal Affairs at The Right to Life League. Prior to working in pro-life, Susan enjoyed a career in television and films. She served as a litigation attorney at a prominent international law firm in downtown Los Angeles. Susan is the mother of seven children dedicated to using her speaking and legal skills to champion civil rights for the unborn.
Author: Good Guys With Guns At Home, and Good Guys With Guns Abroad,
Interview Panel
Grace Asagra, RN MA (Holistic Nurse, US, originally from the Phil)
Podcast:  Quantum Nurse: Out of the Rabbit Hole from Stress to Bless
Quantum Nurse - Bichute https://www.bitchute.com/channel/nDjE6Ciyg0ED/
Quantum Nurse – Apple https://podcasts.apple.com/us/podcast/quantum-nurse-out-of-the-rabbit-hole-from-stress-to-bliss/id1522579988
Quantum Nurse Earth Heroes TVhttp://www.earthheroestv.com/categories/the-freedom-broadcasters?via=grace
Quantum Nurse Rumble https://rumble.com/c/c-764837
Dr. Jayne Marquis, ND
Podcast: INpowered
https://linktr.ee/INpoweredhealth
Hartmut Schumacher
Podcast: GO YOUR OWN PATH
https://anchor.fm/hartmut-schumacher-path
Comments
(0)
To leave or reply to comments, please download free Podbean or